TIGER SPORT 660
Lucerne Blue / Sapphire Black
Available from
₩13,150,000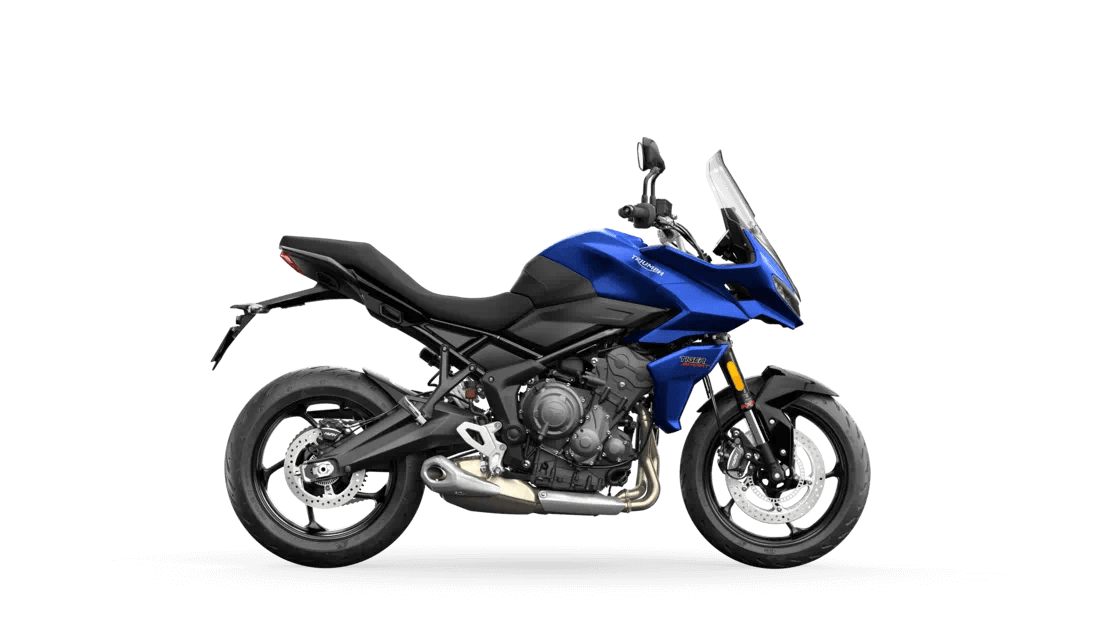 Tap and drag
Click and drag
Loading your ride
자신감을 불러일으키는 핸들링과 탁월한 3기통 퍼포먼스 그리고 클래스를 리드하는 테크놀러지가 집약된 타이거 스포츠 660은 어드벤쳐 스포츠의 다양성과 흥미진진함에 대한 새로운 기준을 제시합니다
SPECIFICATION
TIGER SPORT 660 Specifications
Feature
Details
Price
On the road price
From ₩13,150,000
TIGER SPORT 660 Specifications
Feature
Details
Engine & Transmission
Type
Liquid-cooled, 12 valve, DOHC, inline 3-cylinder, 240° firing order
Capacity
660 cc
Bore
74.04 mm
Stroke
51.1 mm
Compression
11.95:1
Max Power EC
81 PS / 80 bhp (59.6 kW) @ 10,250 rpm
Max Torque EC
64 Nm @ 6,250 rpm
System
Multipoint sequential electronic fuel injection with electronic throttle control
Exhaust
Stainless steel 3 into 1 header system with low single sided stainless steel silencer
Final Drive
X-ring chain
Clutch
Wet, multi-plate, slip
Gearbox
6 speed
TIGER SPORT 660 Specifications
Feature
Details
Chassis
Frame
Tubular steel perimeter frame
Swingarm
Twin-sided, fabricated steel
Front Wheel
Cast aluminium, 17 x 3.5 in
Rear Wheel
Cast aluminium, 17 x 5.5 in
Front Tyre
120/70 ZR 17 (58W)
Rear Tyre
180/55 ZR 17 (73W)
Front Suspension
Showa 41mm upside down separate function cartridge forks, 150mm wheel travel
Rear Suspension
Showa monoshock RSU, with remote hydraulic preload adjustment, 150mm wheel travel
Front Brakes
Nissin two-piston sliding calipers, twin 310mm discs, ABS
Rear Brakes
Nissin single-piston sliding caliper, single 255mm disc, ABS
Instrument Display and Functions
Multi-function instruments with colour TFT screen
TIGER SPORT 660 Specifications
Feature
Details
Dimensions & Weights
Width Handlebars
834 mm
Height Without Mirror
1398 mm / 1315mm (high / low screen position) mm
Seat Height
835 mm
Wheelbase
1418 mm
Rake
23.1 º
Trail
97.1 mm
Tank Capacity
17.2 L
Wet Weight
206 kg
TIGER SPORT 660 Specifications
Feature
Details
Fuel Consumption
Fuel Consumption
4.5 litres / 100 km mpg
CO2 Figures
107 g/km EURO 5 CO2 emissions and fuel consumption data are measured according to regulation 168/2013/EC. Figures for fuel consumption are derived from specific test conditions and are for comparative purposes only. They may not reflect real driving results. g/km
TIGER SPORT 660 Specifications
Feature
Details
서비스
서비스 주기
10,000 miles (16,000 km) /12 months service interval, whichever comes first
Tiger Sport 660 Features

Engine
660cc triple engine (Euro 5 compliant)
Power and Torque
81PS and 64Nm

Compliance
A2 compliant (Accessory fit conversion kit)
Clutch
Slip & assist clutch
Traction Control
Ride-by-wire throttle with switchable traction control
Riding Modes
2 riding modes (road and rain)
Shift Assist
Triumph Shift Assist (Accessory fit)
Suspension
Showa upside-down forks and remote preload-adjustable monoshock rear suspension unit

Brakes
Nissin brake calipers with ABS
Wheels and Tyres
Michelin Road 5 tyres

Instruments
Multi-functional instruments with personalisable TFT display
Connectivity
My Triumph Connectivity System (Accessory fit)
Lighting
All LED lighting, with self-cancelling indicators

Servicing

Service
10,000 miles (16,000 km) /12 months service interval, whichever comes first
Tiger Sport 660 Features

Engine
660cc triple engine (Euro 5 compliant)
Power and Torque
81PS and 64Nm

Compliance
A2 compliant (Accessory fit conversion kit)
Clutch
Slip & assist clutch
Traction Control
Ride-by-wire throttle with switchable traction control
Riding Modes
2 riding modes (road and rain)
Shift Assist
Triumph Shift Assist (Accessory fit)
Suspension
Showa upside-down forks and remote preload-adjustable monoshock rear suspension unit

Brakes
Nissin brake calipers with ABS
Wheels and Tyres
Michelin Road 5 tyres

Instruments
Multi-functional instruments with personalisable TFT display
Connectivity
My Triumph Connectivity System (Accessory fit)
Lighting
All LED lighting, with self-cancelling indicators

Servicing

Service
10,000 miles (16,000 km) /12 months service interval, whichever comes first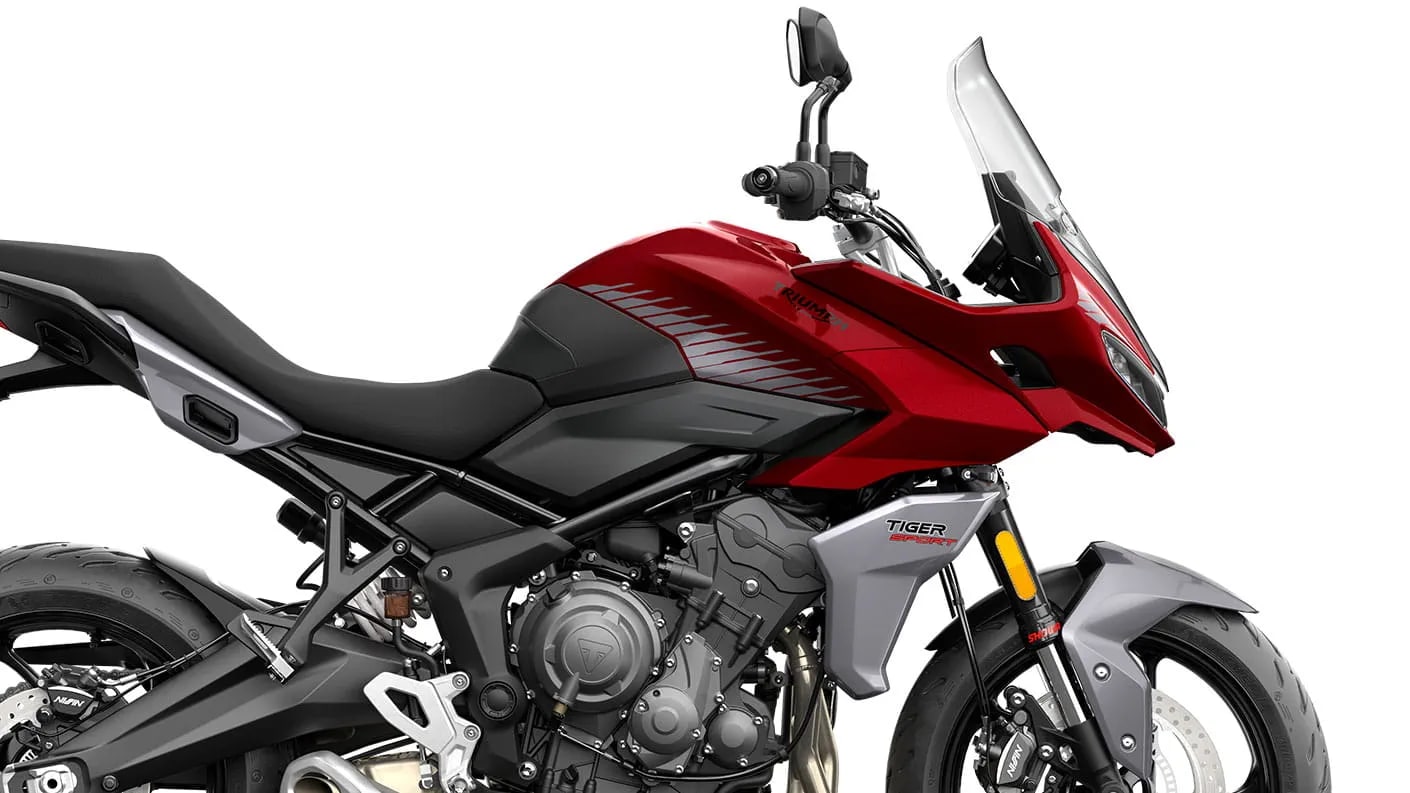 동급 최고의 최대출력
동급 최고의 스릴 넘치는 퍼포먼스를 발휘하는 모델 - 81PS의 최대출력과 64Nm의 최대토크 그리고 3기통 엔진들의 특징인 전 회전 영역에서의 부드러움, 스로틀 응답성, 리니어한 파워 전달
민첩하고 역동적이며 편안한
갸냘픈 허리 라인, 835mm의 낮은 시트고, 편안한 인체공학 설계, 경쾌한 스티어링의 반응은 모든 라이딩 장면을 즐겁게 만들어줍니다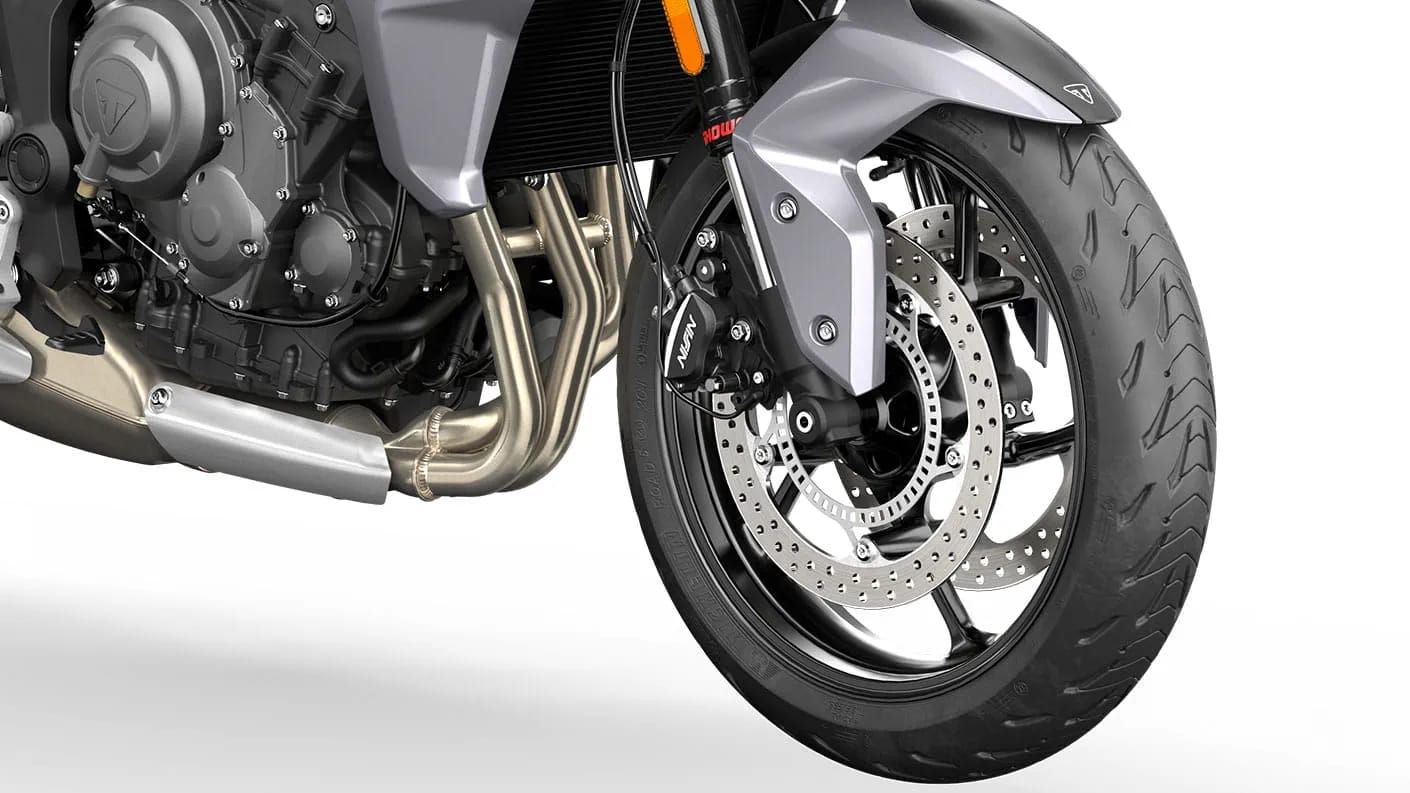 라이더 중심의 테크놀러지
진보된 안전성과 제어력을 확보하기 위해 타이거 스포츠 660의 최첨단 기술에는 최신세대 ABS와 온오프 제어가 가능한 트랙션 컨트롤이 포함됩니다. 우수한 주파 능력과 자신감 있는 라이딩을 실현시키는 모터사이클입니다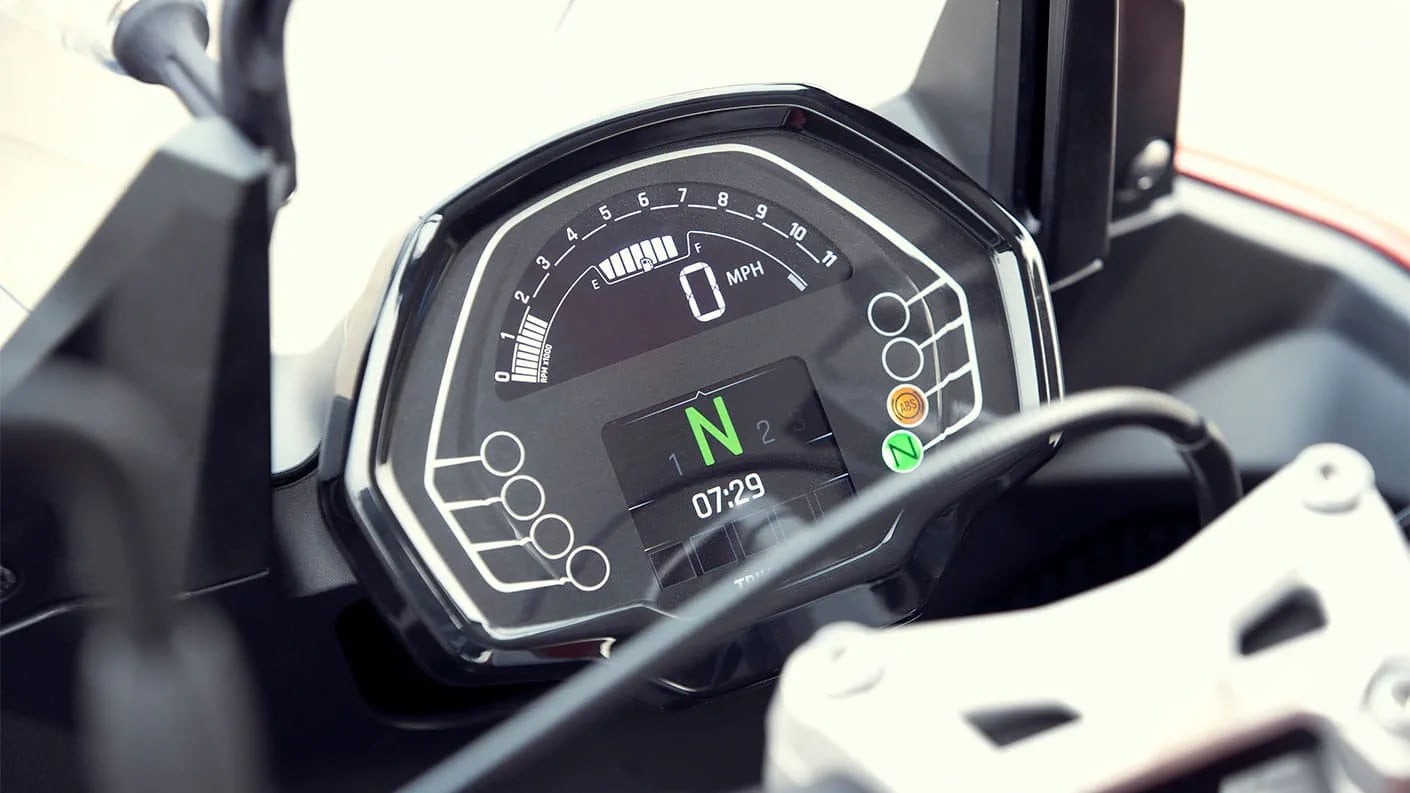 다기능 계기반
동급 최고의 컬러 TFT 디스플레이는 필요한 정보를 한 눈에 제공합니다. 추가 액세서리인 마이 트라이엄프 커넥터비티 시스템을 추가 장비하면, 네비게이션(국내미적용), 전화, GoPro 제어가 가능합니다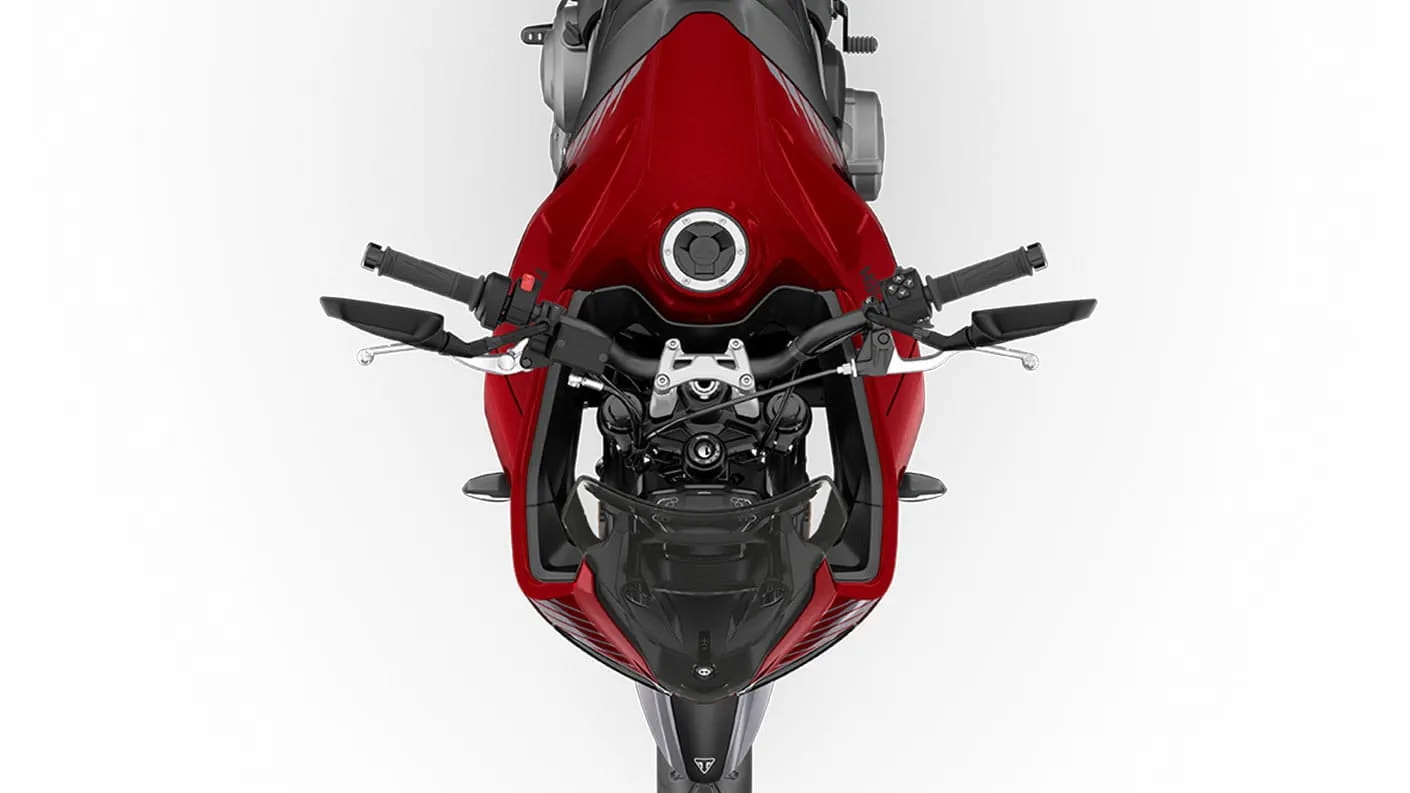 2가지 라이딩 모드
주행 조건에 최적화시킬 수 있도록 스로틀 리스펀스와 트랙션 컨트롤을 변경해주는 로드 모드와 레인 모드를 스위치 조작을 통해 손쉽게 전환이 가능합니다

LED 등화장치로 인한 최상의 안전성
포지션 라이트가 탑재되어 있는 LED 헤드라이트, LED 테일 램프, 셀프 캔슬링 기능이 탑재된 LED 방향지시등(국가별 사양에 따라 다름) 등은 항상 우수한 가시성과 유지보수가 필요 없는 안심감을 제공합니다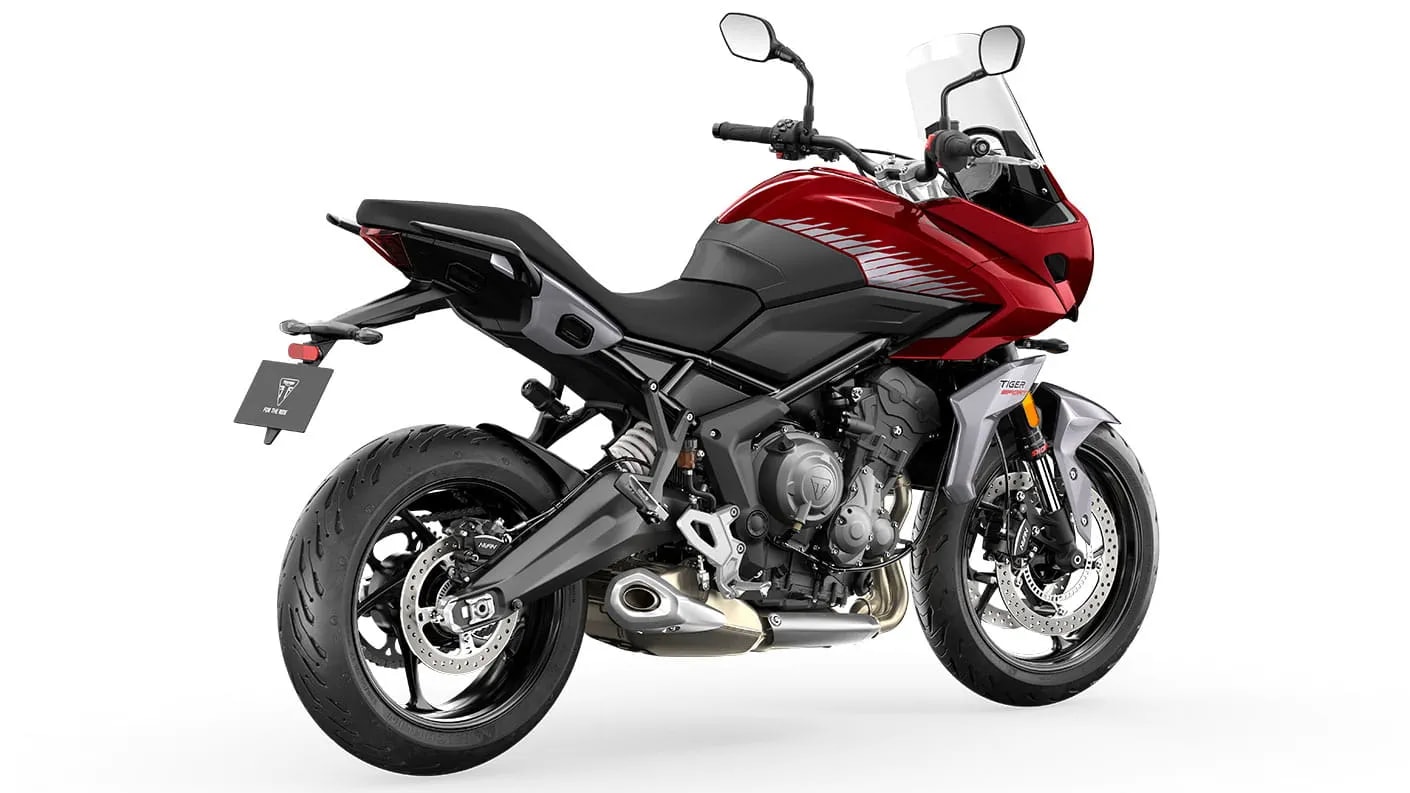 Ride-enhancing features
Slip and assist clutch combined with a span optimised lever provides a light action clutch, reducing rider fatigue. Ride-by-wire throttle and immobiliser complete the specification.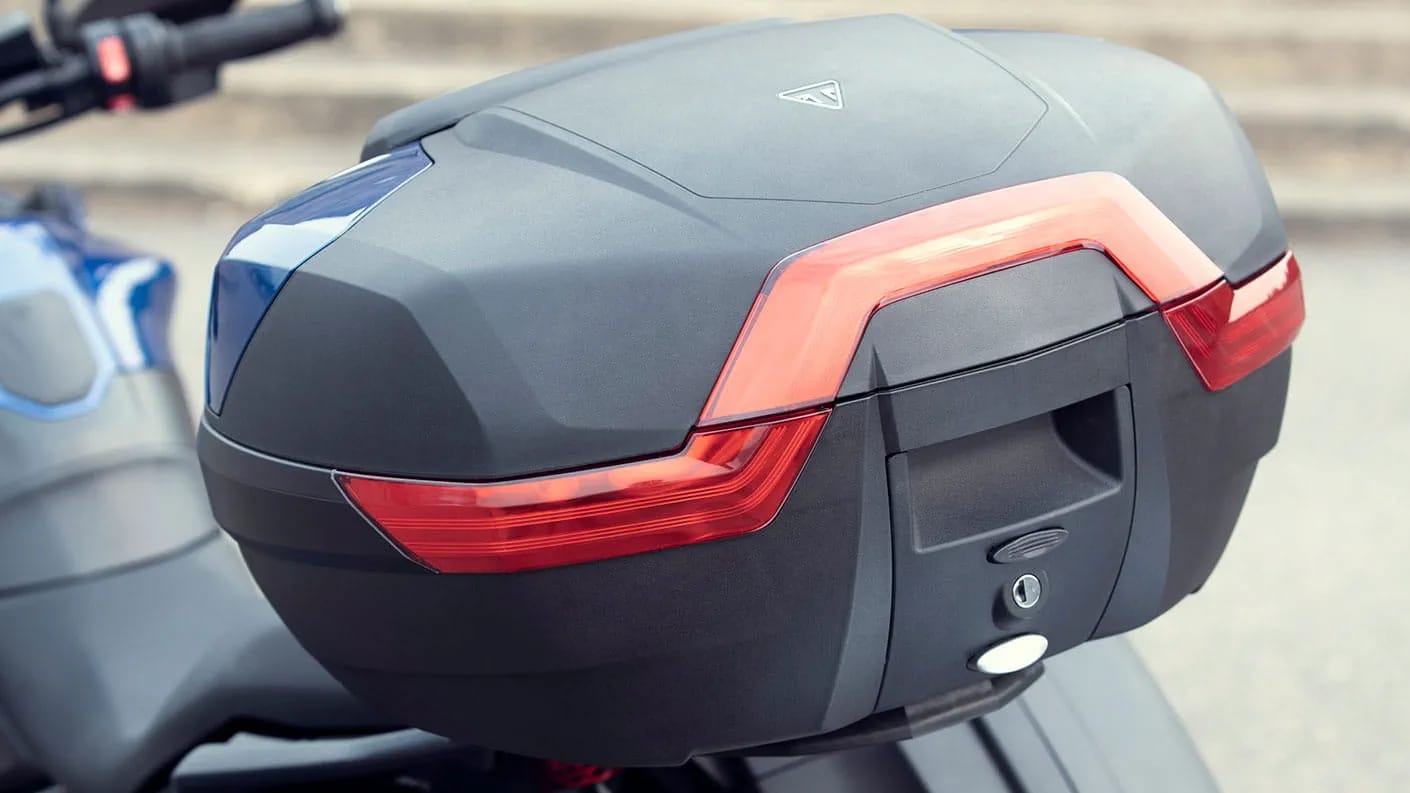 Ready to make it yours
From colour coded touring luggage, to additional protection, capability, style and security, all genuine accessories are designed hand-in-hand with the bike and come with a 2-year unlimited mileage warranty.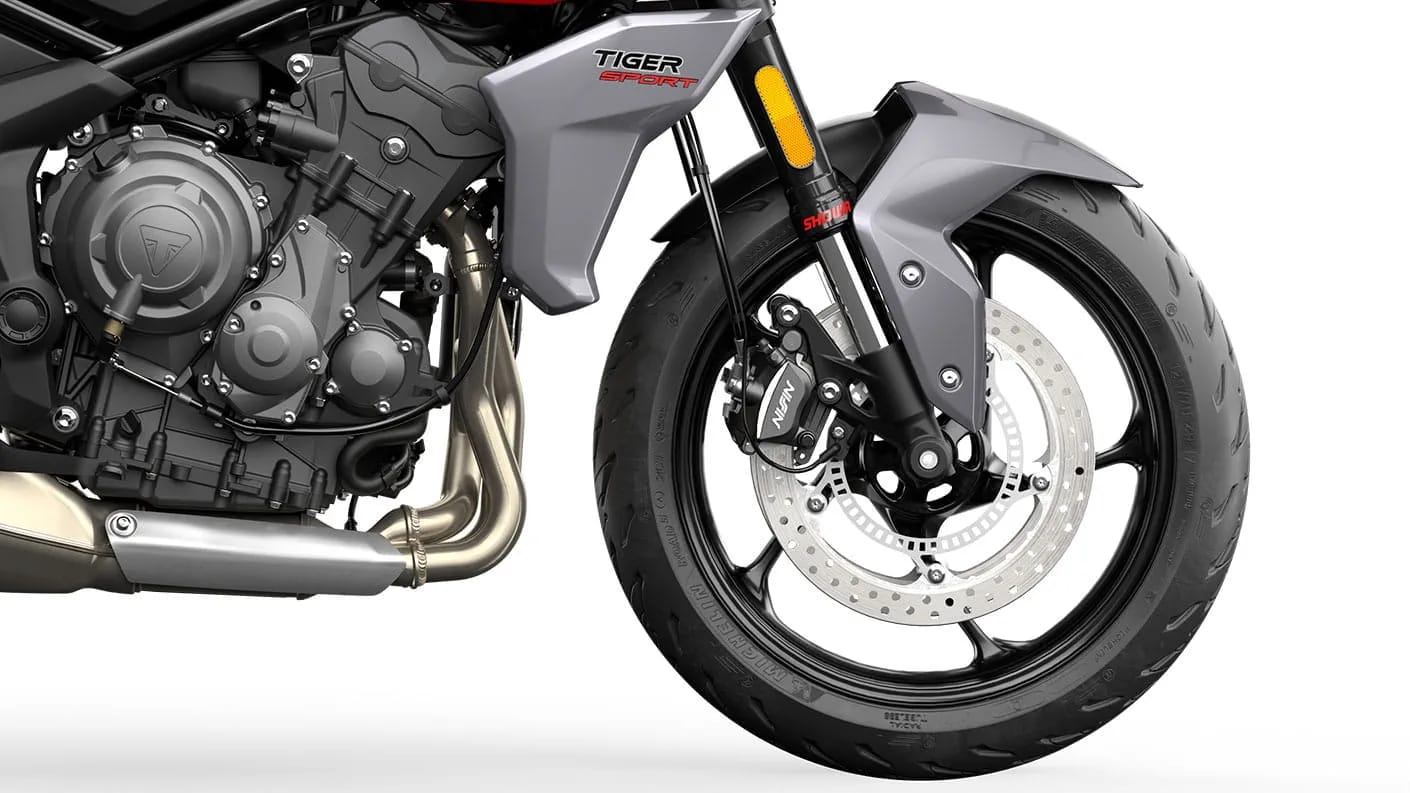 Incredible stopping power
2-piston branded Nissin sliding front calipers with lightweight discs, and single-piston Nissin rear brake give you the confidence of exceptional stopping power for maximum riding safety.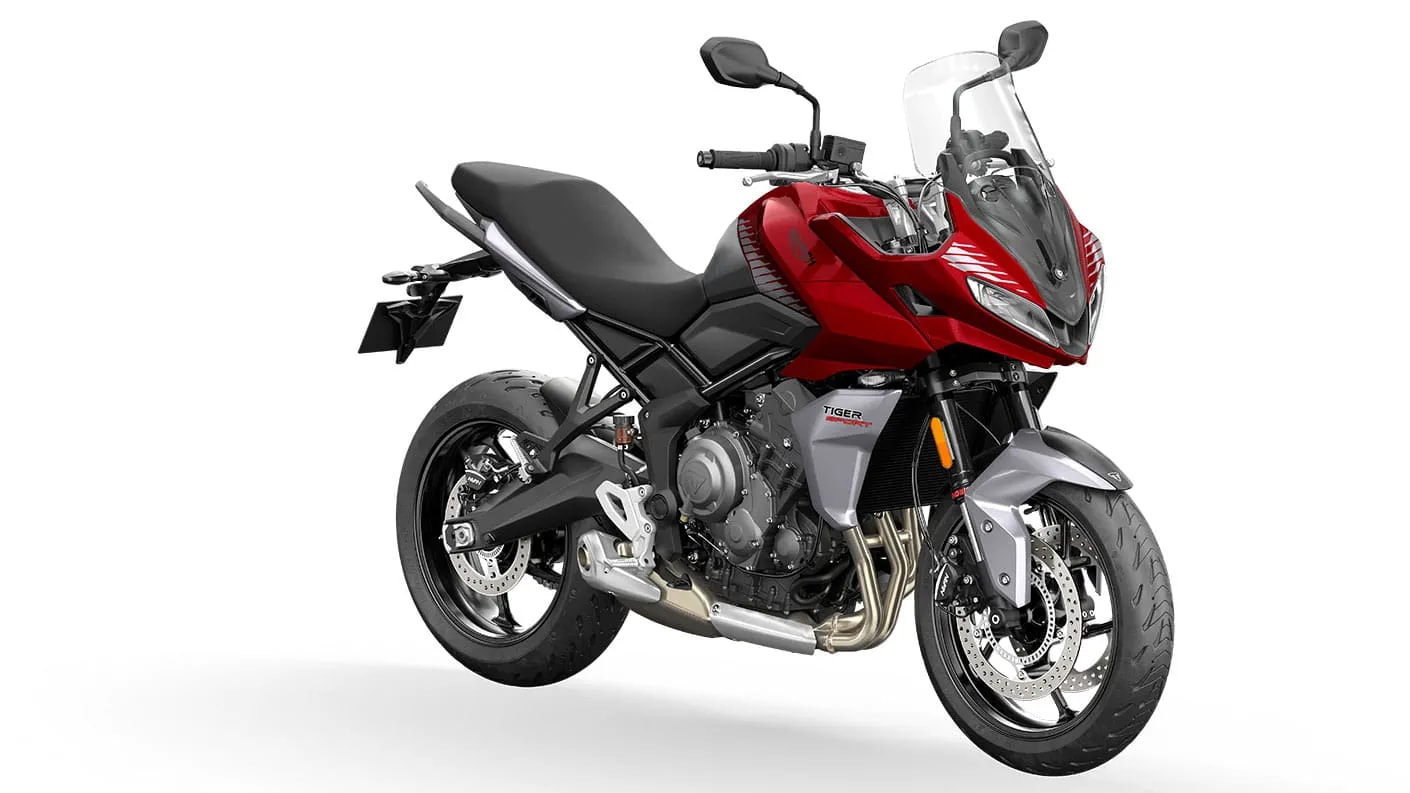 Adventure styling for every day
Striking adventure sport stance and dynamic poise with clean-line bodywork, uncluttered cockpit and sculpted screen. Sporty and refined yet robust and versatile, ready for every road adventure.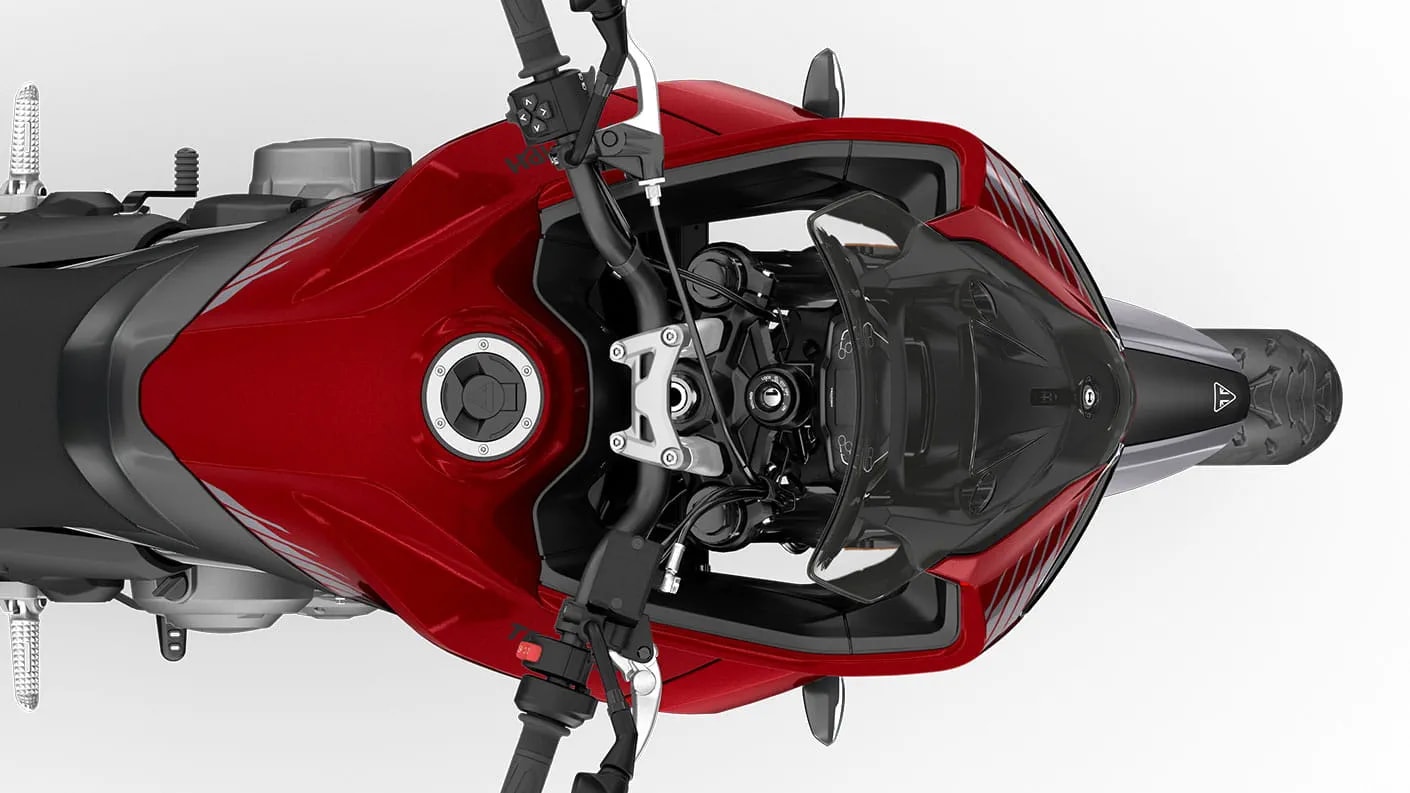 17-litre tank for touring capability
Perfect for every ride, from touring to the daily commute, the 17-litre fuel tank keeps you riding longer between refills. Less refueling, more riding.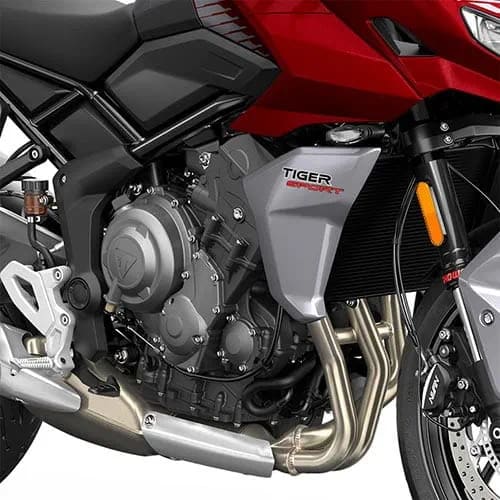 Unbeatable low cost of ownership
뉴 타이거는 2년 무제한 마일리지 워런티와 클래스를 선도하는 16,000km 서비스 주기 등 해당 카테고리 중 가장 저렴한 유지보수 비용을 제공하며, 이 모든 것을 매우 경쟁력 있는 가격에 제공합니다.